Mold Remediation
Lepi Enterprises offers complete mold remediation for residential and commercial clients. Our mold removal services are compliant with all local and federal laws.
According to the EPA "concern about indoor exposure to mold has been increasing as the public becomes aware that exposure to mold can cause a variety of health effects and symptoms, including allergic reactions." Also, "Molds can be found almost anywhere; they can grow on virtually any organic substance, as long as moisture and oxygen are present. There are molds that can grow on wood, paper, carpet, foods, and insulation. When excessive moisture accumulates in buildings or on building materials, mold growth will often occur, particularly if the moisture problem remains undiscovered or unaddressed. It is impossible to eliminate all mold and mold spores in the indoor environment. However, mold growth can be controlled indoors by controlling moisture indoors. When mold growth occurs in buildings, adverse health problems may be reported by some building occupants, particularly those with allergies or respiratory problems. Remediators should avoid exposing themselves and others to mold-laden dusts as they conduct their cleanup activities. Caution should be used to prevent mold and mold spores from being dispersed throughout the air where they can be inhaled by building occupants."
With the above in mind, Lepi Enterprises will offer you a detailed evaluation and quote to remedy your mold issues.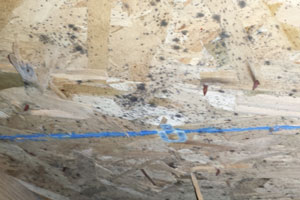 Lepi Mold Remediation
Lepi Enterprises, Inc. can provide a Certified Mold Remediator to evaluate your home or facility for the presence of mold. If mold is identified, the most important step is the isolation of the supporting source. Lepi Enterprises, Inc. is experienced in the processes required to:
Survey your home or facility
Procure air and surface samples
Isolate the source
Recommend treatment
Perform remediation activities including reconstruction
All mold workers are trained to complete mold remediation activities and properly use personal protective equipment.