Mercury Abatement
Lepi Enterprises, Inc. has experience in the safe handling and disposal of mercury containing products and devices.
According to the EPA "Mercury has traditionally been used to make products like thermometers, switches, and some light bulbs." In regards to mercury exposure the EPA states, "Mercury exposure at high levels can harm the brain, heart, kidneys, lungs, and immune system of people of all ages. Research shows that most people's fish consumption does not cause a health concern. However, it has been demonstrated that high levels of methylmercury in the bloodstream of unborn babies and young children may harm the developing nervous system, making the child less able to think and learn"
Lepi Enterprises will service residential or commercial customers who have products that may contain mercury and dispose of it in a safe and effective manner.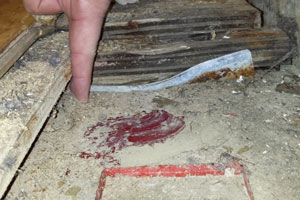 Mercury Abatement
Many buildings are constructed with mercury containing devices, including fluorescent lamps, HID lamps, switches and thermostats. Mercury has also been used in the manufacture of commercial and industrial HVAC equipment; gas fired devices and flow meters.
As a rule, mercury should be removed before the demolition or disposal of a device or structure.
One of the most concerning uses of mercury is in rubber floors, 3M brand Tartan Track, or flooring installed in the 1970s was produced using mercury as a catalyst. Other rubber tracks and gym floors may contain mercury as well. These floors are commonly found in schools and university gymnasiums. Studies have demonstrated the migration of mercury to items that are exposed to the floor such as balls and shoes. There is also evidence of tracking mercury to adjacent areas.